Micah and I are going to Mexico!
I'm very excited, we've never been to Mexico. We know TONS of people from Mexico, and have always wanted to go. We are chaperones for a mission trip with students from Emmaus Bible College over Spring Break. There will be 16 of us all together. Micah will be speaking at a youth conference and doing a workshop on evangelism.
My mom is coming to be with the kiddos! So, Micah tells me it will be like a second honeymoon.
You can pray for safety, health and that the Gospel would become more well known.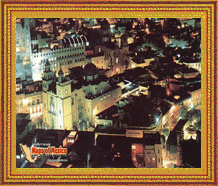 Amy
Wednesday, March 7, 2007 - Hiya Amy!
Posted by deedeeuk (81.179.70.44)
What fun! Will be praying that you have a great time and get a bit of that 'second honeymoon' time too!! I've joined the EBC alumni blog and am having a great time trying to catch up with everyone and everything that has been going on there for the past 14 years since I left! (yeah right!) Anyway, feeling a bit closer to Emmaus lately, say hi to the marble chapel for me? Lots of special God times in there long ago!
Thursday, March 8, 2007 - Untitled Comment
Posted by drewsfamilytx (64.234.0.103)
Hola Amy!

What a great combo-- spreading the gospel, visiting a new place AND spending time with hubby sans kids-- well, at least LITTLE kids! :-)

Love,
Marsha
Thursday, March 8, 2007 - Untitled Comment
Posted by SandBetweenMyToes (24.158.202.154)
I hope you have a terrific time in Mexico, and that much is accomplished for the gospel. My husband and oldest daughter will be headed to Guatemala in June. I'd love to go, but it's not meant to be this year.
Your little girl is adorable.
Letitia
Sunday, March 11, 2007 - mexico
Posted by luvmy2mks (80.80.168.86)
blessings on your trip! hope the 2nd honeymoon gets to happen, too :-) mary
Friday, April 20, 2007 - Mexico
Posted by momofsix (24.182.227.62)
Come back with lots of pictures. I look forward to seeing them.
0 comments: